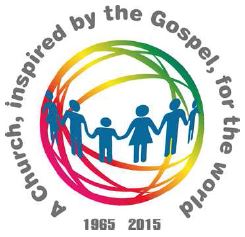 Council 50 is a project that gives an opportunity to all communities, groups, parishes and associations to share, on an equal footing, their vision for a 21st century Church inspired by the Gospel for the world, thereby responding to the calls of our Pope Francis.
    For over a year, the Pope Francis has made repeated calls to all members of our Church to ensure that she lives according to the Gospel, and to live in the spirit of Jesus in our complex world. It is precisely these initiatives and proposals of groups, associations, communities, parishes, often fruits of the seeds sown during the Council Vatican II, that Council 50 aims to collect and compile during the worldwide gathering of  delegates scheduled in Rome from November 20-22, 2015 to create the Charter of Council 50, which will be offered to the Pope during his jubilee celebration of the closing of Vatican II.
This project also hopes to bridge the gap between the institution of our Church and its base, which is too often ignored. That is we are making regular attempts to approach the Pope; as of now, we have direct contacts with the Vatican Secretariat of State.
    The project that is growing day by day and relies on the work of the groups and local communities.
New contributions arrive weekly, new meetings of interest to Council 50 are scheduled. For example:
–   in Asia from August 16 to 25, 2015, annual meeting AYA / ATF (Asian Youth Association and Asian Theology Forum.
–    in Europe, May 21-22 in Merville (LGBT Forum), October 23-25 in Strasbourg (Parvis), from October 2-4 in Strasbourg (General States of Christianity), Italy on May 9, 2015: Chiesadituttichiesadeipoveri.
–   in Latin America October 26-30, 2015 : Theological Congress "Iglesia que camina con Espíritu y desde los pobres" Belo Horizonte.
–   in the USA April 10-11, 2015 in Boston, COR meeting at which a member of the organizing committee of Council 50 was invited; September 2015 in Philadelphia
–   In India at Chennai December 5-9, 2015.
   You can send examples of achievements, renewal of testimonials, proposals for the renewal of our Church and its action in the world, widely spread this letter and share your remarks and comments on this program.
   The time has now come to identify your delegates so that they can quickly register for the gathering of delegates that will take place November 20 – 22, 2015 at Casa LaSalle in Rome. Send us your confirmation of attendance and extend this invitation to the associations, groups, communities, parishes that you know. You will find in attached file a pre-registration form with its explanatory note to return as soon as possible.
A conference on the celebration of the 50th anniversary of the Pact of the Catacombs will be held November 11-17, 2015 in the same place where our Council 50 events will take place. Delegates participating in the Council 50 event who are interested in attending this conference can contact the organizers of this conference: Katakombenpakt@pro-konzil.de
  Provisional list of proposed workshops for the event in Rome
The goals of the workshops are to propose a few sentences for the Charter Council 50 and a report that will be briefly presented in plenary. All reports will be published.
–  a) Peace and war, non-violent solutions of conflicts/Church and Christian actions for peace
–  b) Social and economic justice, respect of Human Rights, migration, trafficking/ Commitment of Christians and Church, Church of the Poor
–  c) Environment, sustainability/Commitment of Christians and Church, Encyclical "Laudato Si"
–  d) Inter and Intra religious dialogues, enlargement to interconvictional dialogues: universality of spirituality, transcendences, cultures, beliefs and religions….
–  e) Societal issues, family (synod results), person sexuality, gender, LGBT, impact of cultures and religions,
–  f) Church organisation, ministries, Equality Women/Men, communities, functioning
–  g) Base Ecclesial Communities, Grass-Root communities, their experiences, their actions, their relationship with the institution
–  h) Report on the jubilee of the pact of Catacombs and contributions to Council 50
Note : Each workshop will have to identify key points to be introduced in the Charter Council50 and to prepare a report that will be briefly presented in plenary session and will be published.