99TH COUNCIL OF PAX ROMANA ICMICA/MIIC 23/28 JUNE, 2014.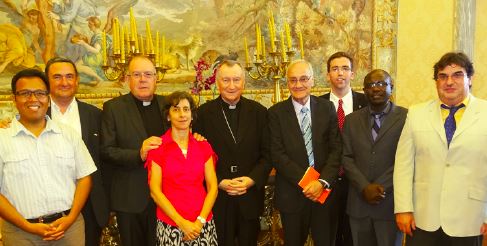 The meeting was an occasion for the International Team and regional vice presidents to review the reality of the movement around the world and make plans for the upcoming year. It also offered us an opportunity to meet with Vatican officials and reflect on the experiences of Christian professionals and the future of the church.
The main points of reflection were:
 – The role our movement plays in witnessing to the message of the Gospel, particularly for those who feel marginalized by society and the Church.
–  Our support for the student movement of Pax Romana (IMCS/MIEC).
–  New ways of self-financing of the movement.
– Strengthening our internal thematic reflection in order to be more effective in the United Nations and other international organizations.
– Creative and new means of engaging our movement.
It was also an opportunity for a visit to the pontifical Council for Justice and Peace, the Pontifical Council for the Laity, and for an audience with the Secretary of State, Pietro Cardinal Parolin,
The last day was organized a colloquium and press conference to highlight several recent contributions of Pax Romana to ongoing reflections on curial reform.
VISITS  TO  THE  HOLY  SEE AND PARTNERS
A.  Social  Justice  and  Ecology Secretariat  of  the  Jesuits:  met  with  Fr.  Xavier  Jeyaraj on how  to  collaborate  with  the  Jesuits  on  future ventures.
B. Pontifical  Council  for  Justice  and  Peace, met   with   Dr.   Flaminia   Giovanelli  and   others  on exchanging  experiences   about   significant  challenges  of  today's  society,  such  as  developing  an inclusive economy, ensuring access to water, a nuclear free world, and  food  security.
C. Pontifical  Council  for  the  Laity met with Bishop Josef Clemens and others about exchanging experiences of Christian  presence  in  the  world. 
D. Secretariat  of State Audience   with   the Secretary of State, Pietro Cardinal Parolin, in the Apostolic Palace, on insights  of  the  new ways of 'being   Church' through  dialogue.
III. COLLOQUIUM  " FOR A  CHURCH  WHICH  GOES  FORTH: LAY  PERSPECTIVES   ON  THE FUTURE  OF  THE  CHURCH
On  June  26th,  we  organized  a colloquium and press conference to highlight  several recent  contributions  of  Pax  Romana  to  ongoing  reflections  on  curial  reform  and how we can  contribute  to  the  ongoing  development  of  the  mission  of  the  church  in  the world. Speakers included Prof. Javier Iguiniz, Dr. Kevin Ahern, Elizabeth Mueller, Frederick   Wamalwa,   and   moderated   by   Prof.   Stefano   Ceccanti. This enabled us to connect with our friends, members   and   press   contacts   in   Rome. We   also   issued   a  special  issue  of  Convergence.