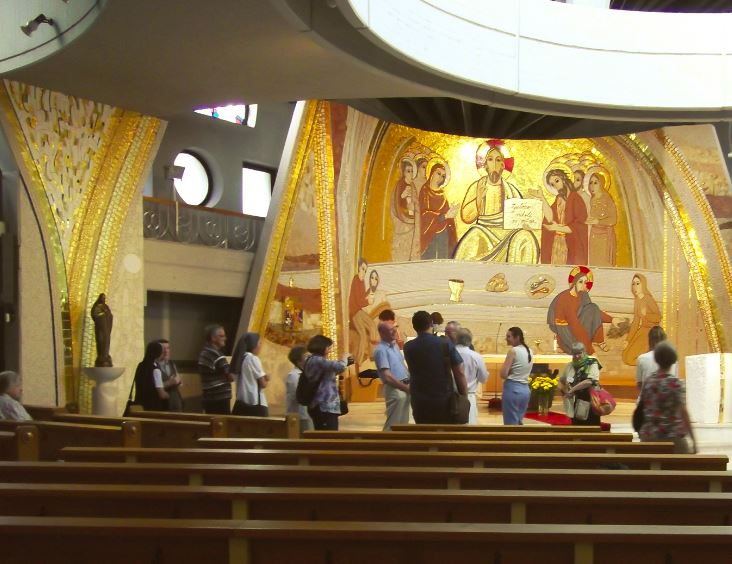 About 60 participants from 10 European countries have taken part in this year's annual meeting. Among them there were fortunately sometimes more, sometimes fewer mostly young Slovenian colleagues who wanted to listen to the interesting lectures on single days. Following the overall topic "Art, Spirituality, Education" we wanted to reflect together how the arts subjects can contribute to promoting education and to opening up for spirituality.
First Helena Fojkar Zupančič show which effects musical education and in particular choral singing have on body, psyche and mind/spirit: "Music is a Quivering of a String Stretched between Heaven and Earth". On the next day we met Marko Ivo Rupnik in a film about his mosaics, in his lecture "The Educational Dimension of Art", and by contemplating his mosaics. On the third day Andrej Capuder in his lecture "The Birth of a Story" and Jana Ozimek in her presentation of the "Role of the Teacher in the Teaching Process Interlacing Spirituality, Art and Education" stimulated to using the formative power of literature in class and at school festivals.
Some workshops moderated by Slovenian colleagues dealt with special thoughts on single aspects of the topics, and as always the personal and often from country to country different experiences were brought up in five language groups.
During the excursions we could not only get to know various sights of the towns of Kranj and Ljubljana, there was intentionally established a connection to the general topic as well: two concerts (violin and guitar, spiritual and secular chorales), a selection of buildings by the famous Jože Plečnik and the afore mentioned mosaics by Marko Rupnik had their effects on us. On the last day we experienced the overwhelming beauty of Škocjanske jame, a dripstone cave connected to Europe's largest subterranean gorge with a thundering river.
And all that surrounded by the special hospitality of our Slovenian colleagues, in whose design there again and again were built in surprises, together with the good meals and the friendly personnel of the students' hostel.
SIESC says many thanks to Marija Žabjek, P. Silvo Šinkovec and the whole preparatory and organizing team, in particular to the highly expert and circumspect guides Marjeta Brence, Damjan Prelovšek and Ludvik Mihelič.
Slovenia has for the third time shown that it can organize a meeting full of beauty and experiences.
59th Annual Meeting of SIESC in Kranj (Slovenia)
Summer University in Slovenja. July 2014
At a time when the future is so uncertain, when beauty is no longer beautiful and we talk about the aesthetics of ugliness, when we proclaim self-realization as the heyday of life, at a time when the numbers of lessons of art and music are reduced, many educators are increasingly aware of the responsibility for an educational approach developing a whole person in its entirety.
Plato already argued that there are three core values: truth, goodness and beauty. We add holiness to these. Consequently, the educational system should comprise a quest for truth (formation), inspire a desire for goodness (ethical education), and develop a sense for beauty (aesthetic education). Thus we can also help young people to get into contact with the sacred, with transcendence more easily (religious education).
This year's meeting will primarily concentrate on topics of aesthetic education, which through the experience of beauty opens human beings to spirituality. Artists and educators will present and interpret their works. Listening to choral songs and visiting mosaics and monuments of architecture in Kranj and Ljubljana will add joyful practical experience. Language groups or workshops in four different languages will involve you in reflexions on the topics.
The town of Kranj is situated at the confluence of the Sava and the Kokra rivers in the heart of the pre-alpine region and is connected to the international train and plane net. It is only 9 km away from the central Slovenian airport Joze Pučnik and 25 km from the capital of Slovenia, Ljubljana.
In the picturesque town with its many attractions you will be accommodated in a youth hostel near the town centre (http:/www.dsd-kranj.si).
 In addition to other surprising experiences on short trips during the meeting you can explore the karst area and the world-famous Škocjan Cave during the optional excursion.