Reflections on an Iftar Party (1)
 Bro Bibin Mattathil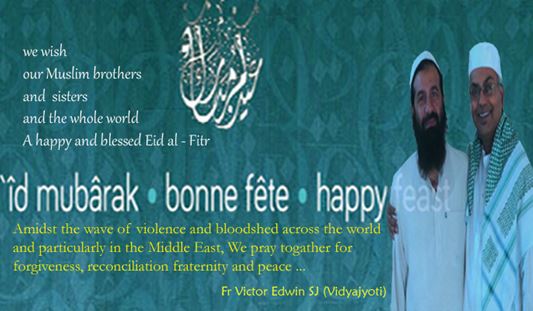 Eye openers in life happen very rarely and this rarity demands that one has to go after those eye openers reflectively.  Our visit to the Civil Lines Mosque for an Iftar party with our Muslim brothers was one such an occasion for all the 15 of us from Vidyajyoti College of Theology. We were guided by Victor Edwin SJ who keeps up brotherly relationship with the Imam of this particular mosque. A way to shed away the prejudices about a religion is to know it correctly by way of interaction, dialogue, friendly gathering. Iftar gathering that we had, on 24th of July 31, 2014, was such an occasion for all, as we all would agree.
           We were received by Muslim friends cheerfully into the mosque and were lead to the first floor of the Mosque. The hospitality extended to us were so stirring for all of us and for some it was their  'debut' entry in to a Mosque. There were no unusual gazes, murmurings and frowning which I thought would greet us but on the contrary their gesture of hospitality put us into a comfortable zone.
              We had a small introduction, before the Iftar gathering, by Victor Edwin SJ, regarding how to go about during the gathering. After a short while, we were led to the second floor where they had prepared the very front raw for all 15 of us (special 'guests'). Two sisters who also had accompanied us joined the wife and other women relatives of the Imam. There were many Muslim brothers form the nearby locality who had come for the Iftar. The prayerful atmosphere created before the breaking of the fast gave it a color of spiritual gathering. We observed that most of our Muslim brothers gathered for the Iftar were earnestly thanking God, through the common gesture of holding their hands open just below the chin, eyes gazing upward, and lips uttering the name of Allah. Those were the moments we felt how beautifully in each religion prayer and silence play the vital role in experiencing the closeness of God. At the appointed time the Muslim friends gathered there had dates, water, sweet sharbat, and some snacks to break their fast. We too shared the iftar meals. Then Muslims proceeded to offer Namaz, the canonical prayer.
         We were also privileged to witness the evening Namaz and many of us were curious to know how they do the Namaz in the Mosque. Equality, uniformity and togetherness were very much visible in their prayer. Each movement of the Namaz was synchronized with prayer. As we came out thanking the Imam and their family members we felt a certain kind of satisfaction in our hearts, were we not going through an Emmaus experience- "eyes to be opened and hearts to be ignited".
(1) Iftar is the evening meal taken during the Ramadan