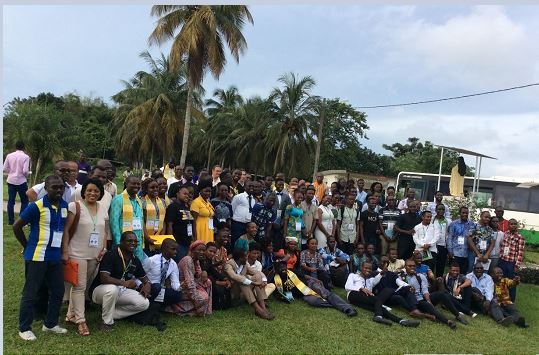 We, Catholic Professionals under the auspices of Pax Romana, decided to assemble here in Ivory Coast, Bingerville from 17 African countries to reflect on the theme 'Catholic Professionals and the Call to Good Citizenship in Africa Today'.  The Catholic Professionals convened from 15 to 18 2018 October to:
Self-examine ourselves, especially on our role as Catholic Professionals and as agents of change; and
Develop practical strategies (activities/road map) on ways to 'organize ourselves' to confront the socioeconomic and political challenges that pull us back as a continent.
We recognize that the African continent has made great socio-economic and political strides. However, in spite of this progress, the continent still remains held back by many serious challenges- including corruption, poor governance, weak institutions, un employment all of which negatively affect the continent's socioeconomic and political progress.
In responding to the above challenges, we acknowledge that as Catholic professionals, we also face some limitations related to formation, mobilisation, networking, communication, collaboration with the Church hierarchy, availability, finances, accountability which hinder our full potential to respond to the needs of the Church and the society.
 As a unique category of people, with special gifts of educational and professional formation, we do have a responsibility and duty to work towards a just world despite our limitations. Paul, in his letter to the Corinthians reminds us to put these gifts at the service of the common good (1 Corinthians 12:7). As Christian professionals, God has called us to make a difference in this world- not just by preaching but by working to bring justice and peace into the society.
 Further, as Catholic professionals, living signs of the Gospel, we are invited to participate in the life of the Church and the world. Pope John Paul II in Christifideles Laici has challenged that lay faithful 'are never to relinquish their participation in 'public life'[1][1]. To promote integrity in the administration of the temporal goods of the church, Benedict XVI in the Apostolic Exhortation Africae Munus, advices the Bishops not to hesitate to seek help from professionals in these words: 'Do not hesitate to seek help from experts in auditing, so as to give example to the faithful and to society at large'[2]. In the recent AMECEA plenary, the Bishops committed to work towards building a regional network of Catholic professionals for sharing best practices in integrity, auditing, inclusion of the laity in governance and leadership of church institutions.
We recognise that our spiritual foundation is our commitment to Christ and therefore a call to serve. We deeply believe that being a Christian professional does not make us more professional, but it makes our profession to be an expression of Christ's presence in the human situation in which we live. An important part of this witness is the fact that Jesus Christ is the only way to salvation, not just one of many.
Thus being concerned about conversion of the mind and soul we commit the following:
Our commitment to this call requires us to be well organised through our structures. We believe in the imperative to renew and rethink the current structures of ICMICA-Pax Romana. As a movement, we must continue to strengthen our communication methods and leadership structures at the national, regional, and global levels.
We need to be a self-sustaining movement. For a movement like ours to influence society and the Church, it must have the human and financial independence to fulfil its mandate. This requires innovative strategies in mobilising resources highlighting the importance voluntary contributions and income generating initiatives.
 Strategic membership mobilisation and retention shall be prioritised:  Young professionals and former members of IMCS-Pax Romana remain the main sources of membership. In Evangelli Gaudum, Pope Francis challenges all the church to become missionary, to go out beyond ourselves and to proclaim the Gospel at the margins.  Many young professionals are struggling to fit in the world as they transit from the world of education to the world of work. They are looking for mentors to help them make this transition. This is a big challenge for us as a movement. We shall leverage our current relationship with youth movements like IMCS and other professional associations for membership. Working together towards the centenary of Pax Romana in 2021 offers us an opportunity to renew that relationship.
 It is imperative that we deepen our collaboration with church institutions. We need to establish presence in Small Christian Communities, parishes and dioceses. We need to mobilise and organise ourselves at the national level through the national lay apostolate. Importantly, we need to mobilise and organise at the regional episcopal conferences.  We offer a unique representative voice of the voiceless. This remains the best endeavour for supporting the Church. We need to continuously build and sustain our relationship with the church leadership from the parish to the regional level.
Our collaboration should stretch outside the Church. We need to seek collaboration with national, regional and international institutions involved in global governance and human development. We are fortunate to have earned respect within the UN as an NGO with a Consultative status. We must continue to take a better advantage of these platforms to generate knowledge, influence issue and processes to enable meaningful faith based change.
We need continuous strengthening of the spirituality of our members through appropriate training and formation. We should be concerned with our inner soul before we embark on the outward look, which is equally important. We need to work together with the local and regional episcopal conferences to develop a manual for the formation of our members. This will help the entire movement to retain and sustain membership.
As people with skills, and experience, we recognise that we are in a privileged position and that we have the opportunity to put our experience at the service of the mission of our movement and the church in the world. Our intelligence and imagination are God given instruments for generating knowledge and solutions to local and global challenges. This requires a unique sense of discernment, analysis and reflection to see where God is calling us and to take action in the world and in our lives. We shall work with Universities, Church and community based organisations/movements to respond to our call.
We pledge to respond to the call to work for a just society. We call upon the Church to utilise the vast gifts among the professionals to witness to Jesus.
We call upon all professionals within the Catholic Church to come forth and use their gifts to serve the church and the society.  We urge our members and everyone to promote peace, stability and development of our countries and continent.
We renew our commitment to demonstrate true principles of our faith in all spheres of our lives. We strongly commit to continue providing support to the Church, people and the society through professionalism, integrity, accountability, ethical conduct and use of a human rights based approach to ensure our engagements promote human dignity.
We ask God to enkindle in us all the gift of being the salt of the earth and the light of the world.
[1] John Paul II, Apostolic Exhortation Christifideles Laici, 30th December 1988.  p. 69.
[2] Pope Benedict XVI. Post-Synodal Apostolic Exhortation Africa Munus, 2011, pg. 53