"Communicating Across Generations: Defining the Challenge of New Language, New Media, New Reach"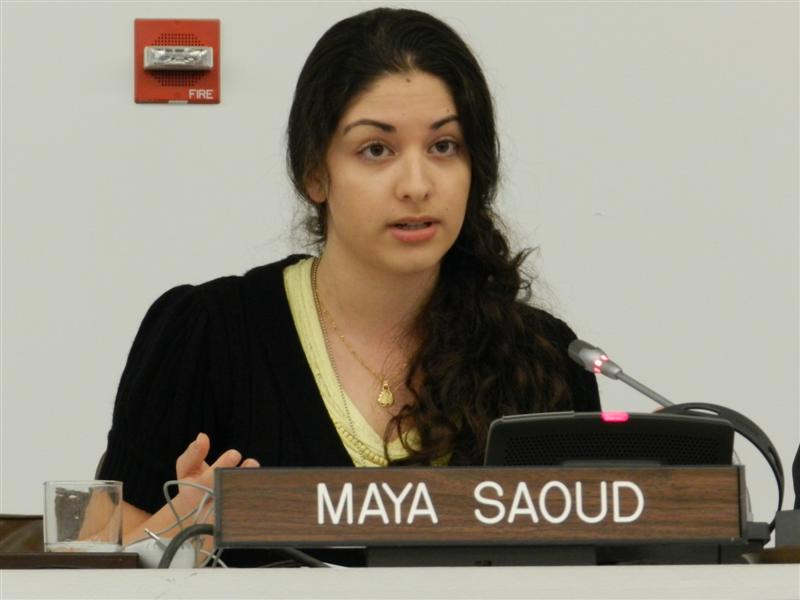 I will be addressing the issue of empowering youth to be on an equally relevant platform in order for collaboration to be meaningul. Pax Romana is in a unique position because we have been working towards this ideal for years. Our NGO was founded in 1921 as a youth organization for University students who stood together for a message of peace and justice. As those young people eventually became older professionals, a new branch of Pax Romana was born in 1947. And so today, our organization is made up of a student movement (The International Movement of Catholic Students) and a professional movement (The International Catholic Movement for Intellectual and Cultural Affairs), each with their own international teams and unique national movements. The team that I work with here represents both movements, as Pax Romana's effort to present a united front as one organization with two complementary branches.
As individuals, our team members, including myself, are actually members of the student movement. And so our presence here is a testament to what true youth participation means. We are not the youth representatives of our organization. We are the official representation of the NGO to the United Nations and our Main Representative is a young person as well. This is our NGO's reality because each of us is qualified for the position, and because a value has been placed on our input. While we have been here, our team has been working closely with the local representatives of our professional movement. These professionals are some of the most impressive and respected people I have ever had the honor of meeting. It has taken some time, but we feel that we have established some great practices in building bridges between our generations. We now attend meetings together, collaborate in organizing conferences and events, and support each other's work. Drawing from this experience, I offer the following suggestions:
 To the NGOs present, use the Youth Representative program as a way to invite new and diverse perspectives into your NGO. However, once young people fill those positions, please do not limit them to that title. Offer opportunities for them to genuinely participate in the organization as a full representative. Encourage Youth Representatives to take initiative when they are inspired to do so; perhaps by hosting a meeting, collaborating in the writing of your interventions and statements, or by doing something creative to boost your mission in ways that you may not have imagined yourself. Perhaps they could spearhead your social media presence by blogging about your meetings and events, or seeking out and updating supporters on Twitter and Facebook. And to the Youth Representatives present today, if you were able to obtain this position in the first place, then you must already know that you cannot wait for these opportunities to be handed to you. You must find places for growth, and seek out the support of your leadership in doing so. Consider everything a learning experience, and absorb as much as possible from your leaders while turning lessons into action.
I think back to a conversation I had with the Director of a local organization in NYC about why they were seeking a young person to fill a coordinator position. She said that the organization was led by very dedicated, passionate, and capable people, but those people were mostly of an older generation. And while they genuinely do want to encourage youth participation and empowerment, they do not know how to do this in an effective way. She confided that while their desire to involve youth was genuine, they were expecting young people to strategize and take action in ways that matched the norm, ways that aligned with what has been done for years. There was a major disconnect between generations, leaving everyone both frustrated and disappointed. And so, after realizing that this approach was stifling and hypocritical, they were seeking to hire qualified young people in order to allow for meaningful collaboration between the tried and true methods, and the new innovations.
 This seems to be a common scenario. Older representatives recognize the importance of young people, but do not know how to promote meaningful collaboration without limiting youth participation. When this happens, there is a risk that young people will be the victims of tokenism within an organization. If a young person is simply given a title and some attention, and their age is being highlighted more than their skills, then this is not meaningful collaboration. The World Programme of Action for Youth highlights the importance of the full and effective participation of youth in decision making processes, which is something that most youth NGOs advocate. We cannot hope to accomplish this at the governmental level if it is not happening in civil society.
This is another way that our Pax Romana team has succeeded recently, at least in regards to our NYC team. Our organization has been hosting a study session for international members for the past 10 years. For the last two years, our current team of representatives has been responsible for planning this conference. While it was probably tempting to box us into the methods, expectations, and approaches of the past, we were given the freedom to decide the theme of the Study Session as well as the way to carry it out. The conference may appear different from what it was ten years ago, but it now reflects the skills of the current organizers and the changing realities of the participants.
 While our organization is by no means perfect, I do strongly believe that we have been given an opportunity to serve as an example of how wonderful it can be when the young, and the not so young are valued as equals, and have meaningful experiences with each other. I hope this has been helpful as we all have much learning to do in promoting cross-generational collaboration using new technologies.