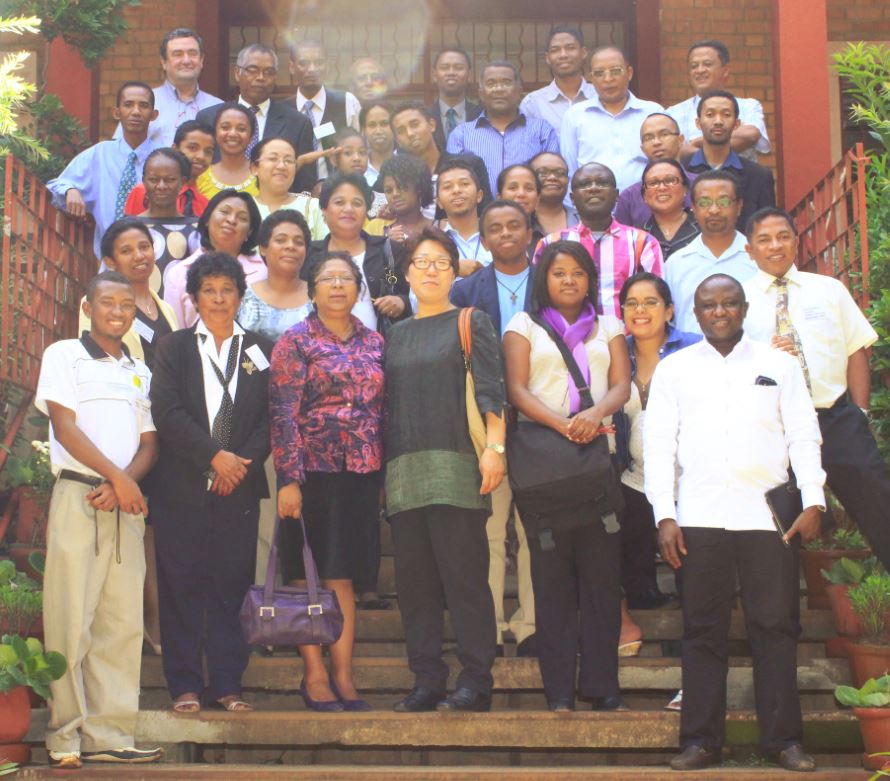 We have just completed a regional Human Rights training with specific focus on UPR which was held in Antananarivo, Madagascar. This training, which started on 27th January to 1st February 2014, was organized by Pax Romana ICMICA (through a close collaboration between MaCMICA, the national affiliated federation of Pax Romana in Madagascar, Pax Romana ICMICA Africa and the Pax Romana ICMICA international). We also received tremendous support from the Africa Regional and national office of IMCS.  In attendance were over 10 CSOs involved in Human Rights work in Madagscar- with Pax Romana mainly playing a coordinating role. The training,  attended by 'who is who' in Madagascar CSO circles, received media coverage on one of the national TV in Madagascar. 
Besides, there were delegates (from Pax Romana ICMICA)  from Kenya, Mali, DRC Congo and Togo. The Chief trainer was Laurencia Kwark, the former SG of Pax Romana.  The training focused on five key thematic areas considered important for the consideration by the government of Madagascar for the UPR review in 2014. These include rights to children, rights to women, elections and electoral reforms, rights to education and state agents and their role in democracy.
Out of these training, we managed to form a coalition of local CSOs, the first of its kind, to implement a series of lobbying and advocacy activities which were jointly planned, locally and internationally, including a shadow report that will be presented to the UN HR commission. Hopefully, Laurencia will be back in Madagascar in early April to offer another training in Lobbying and Advocacy  to the coalition. During the review, we felt that the Madagascar leading and coordinating role could be replicated in other countries and regions and it reflects a good opportunity for Pax Romana.
 I would to thank our friends from IMCS Madagscar who played a leading role in logistical activities. Many thanks to the selfless MaCMICA members lead by Jeannot Rasolondraibe and Luc Narda Randrianahasina for the overal leadership. Many thanks to Phillipe Ledouble, Laurencia Kwark and Chantal Bengaly for your guidance throughout the training.  We have planned for a similar training for English speaking countries in Nairobi Kenya in mid April 2014. Dennis Ong'aria, the national president of the Kenyan national federation is playing a leading role in organizing this training. 
After the training, we had two important meeting worthy reporting and reflecting on. On 2nd February, we had the opportunity to meet a national association of Lay Catholics in Madagscar called MCCP. During this meeting, we explored ways through MCCP could work for joint action with MaCMICA, the national affiliated federation of Pax Romana in Madagascar. The leadership of MCCP also expressed interest to join Pax Romana ICMICA. The existence of MCCP was not surprising to me. I have noticed that there in many of our African countries, there exists many Lay Catholic professional movements. In November 2013, I was in Uganda to meet Mr. Deo Nkunzingoma, the president of CAPU and we noticed that Uganda is characterized by such heterogeneous lay catholic movements. The same is the case here in Kenya. Perhaps Pax Romana has a role in establishing some horizontal and vertical relationships between these associations.
On 4th February, a team comprising Phillipe Ledouble, Luc and Jeannot (from MaCMICA) and myself met a group of seven Bishops from Madagascar to speak to them about Pax Romana ICMICA. Listening to the responses from the Bishops, my general overview is that as a global association of Lay professionals, we have not fully clarified what our identity, role and position is, in the church and society. We need to define who we are, what we stand for, what we can offer beyond the usual phrase that 'Pax Romana is a UN accredited NGO'. Second, Pax Romana has a very good international image and there are so many efforts/work in the form of advocacy at the international level. However, this is not well reflected at the local level- the reality in many countries. Pax Romana is not felt at parish, diocese and national level. In some countries, the movement exists but is in fact not known within the local episcopal conference. It is known to a few handful members. It not felt within the local church and more so, outside the local church. I suggest that our national movements need to work hard to be feasible both within and outside the local church. National ICMICA movements need to be registered as lay movements within the local episcopal conference. They need to be active in the Lay Apostolate and position themselves as a resource to the church. They need also be felt at regional episcopal conference.