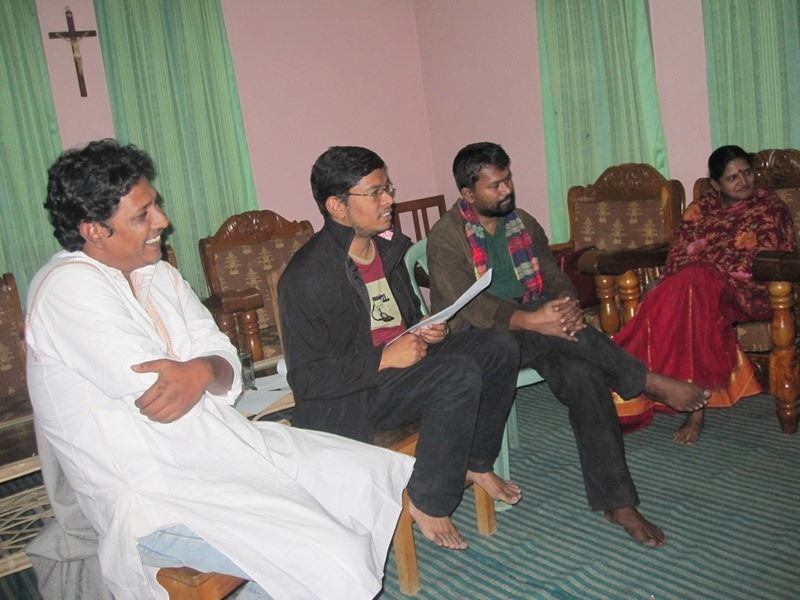 Venue: Holy Rosary Church, Tejgaon, Dhaka. 16 dec 2014
A. Introduction Session
1.       Reading from Holy Bible : The meeting was started at 4:30pm by reading from the bible (Matthew 5:13-16)  by Mr. Joven Richard Moreno followed by a open discussion session on that.
2.       Welcome Speech and Introduction : Before going to the main discussion a opening speech was delivered by Ms. Sylvie Joytee Gomes (A founder member of FWM). On her speech she welcomed everybody and also gave a short briefing about the mission and vision of FWM.
3.       Get to know each other: Participants introduced themselves in this session.
4.       Reading report: Mr. Julius Valentine Gomes read the report on FWM's previous program which was held on 1st May 2014. Mr. Digonto Gomes also read a report on History of FWM and Methodology.
B. Discussion Session (setting up the next course of action)
The discussion session was moderated by Mr. Giles C. Gomes and notes taken by Aboni Albert Rozario. The following issues were discussed –
 1. Create a Database of Professionals:  After a long discussion on this all the participant agreed to create a database on the Christian Professional which will contain some basic information. It may also become helpful for the young professional and job seekers. Some interesting method were proposed at the meeting, such as – all current member of FWM each will provide professional's information, Involving Church for creating this database, collecting data through email, facebook, google doc and some organization who have already some database of some specific profession, such as Christian Doctors' Association etc.
2. Research Work:  There was a proposal of a Research on contribution of Christian Community in Liberation War in 1971. The reason for this research work was explained by Giles Cornelius. As we have named our "Future Watch", so it is not possible to forecast "Future" If we do not have good knowledge about our past and present. Moreover, our Methodology is See à Analyse à Respond. So, Research Work will be a Part of the First step, "See".  It was decided that all member would collect information or publications related to this topic in the next meeting.
3. Story telling / experience sharing: FWM will arrange  story telling / experience sharing program which will be conducted by a invited guest (such as – a freedom fighter, successful Christian personal etc.) at every 3/4/6 months. The first demonstration of this program will be held on 26th march 2015 (The Independence day), where a Christian Freedom Fighter will be invited to share his experience.
4. Women Involvement: Like-minded female will be invited for the next meeting of FWM. Woman Professionals will be given more priority.
5. Website development Of FWM:  An initial proposal of website development will be submitted by the coordination team of database collection activity. 
6. Skill Enhancement Program: FWM will arrange program on skill enhancement for the young professionals  in every 3/4/6 months. The first program will be held on April 2015.
7. Rally on 21st February: FWM will participate in the 21st February 2015 International Mother Language Day rally with all its member.
C.  Final Session (Ending)
Next Meeting: Next FWM meeting will be held on 31 Jan 2015. Time and venue will be confirmed later on.
Fund Collection: Fund collection from the participant of the meeting was TK 840. From next meeting a full financial statement will be present in front of all.
The meeting was finished at 6:45pm by singing National Anthem.
—