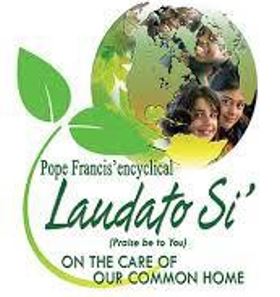 A Pan African Call to a Conversation on Pope Francis Encyclical 'Laudato Si'
INTRODUCTION
     Pope Francis' Encyclical Laudato Si is a worldwide wake up call to help humanity understand the destruction that man is rendering to the environment and his fellow man. Although the document directly addresses itself to issues of the environment, its scope is broader in many ways as delves into many philosophical, theological, and cultural causes that threaten the relationships of man to nature as well as man to his fellow man, in many ways.
     This document is unique in many ways. Like Pope Saint John XXIII's Pacem in Terris, it departs from previous Papal documents as it is not only addressed to Catholic faithful but all people of good. In fact, the Pope states clearly this intention from the onset: "In this Encyclical, I would like to enter into dialogue with all people about our common home" (#3).
     Laudato Si urgently appeals for a new dialogue about how we are shaping the future of our planet. It invites everyone to a 'journey of reflection' about how we are shaping the future of our environment, which Pope Francis refers to as 'our common home'. This call to action is particularly urgent to the people of Sub Sahara Africa. This region suffers from some serious environmental problems, including climate change, deforestation, water pollution, coal mining, nuclear waste, overfishing and industrial agriculture etc.1 Previous efforts to deal with these problems have been prevented by the inability to understand their nature and possible remedies. In fact, region's environmental problems are often blamed on rapid population growth and poverty. Furthermore, the people of this region are often viewed as highly irresponsible towards the environment and looks to the international community for solutions.
     Besides, Pope Francis has a very striking call to conversion for those in the Church as well. He calls for 'an ecological conversion' to all us believers who are passive in our commitment to environmental protection. He challenges us to live our vocation as 'protectors of God's handiwork', an aspect, he regards as essential to a life of virtue (#217).
     It is in this spirit that we, as Pax Romana, a community of believers, would like to organize conservation on Laudato Si, in particular about how relevant it is to Sub Sahara Africa and what practical actions need to be taken to put the messages of the document in action.
BACKGROUND
   The session is jointly organized by the student and professional wing of Pax Romana Africa. The student wing is called the International Movement of Catholic Students (Pax Romana IMCS) while the professional wing is called the International Catholic Movement for Intellectual and Cultural Affairs (Pax Romana ICMICA).
      Pax Romana IMCS founded in 1921, is an international Christian movement for tertiary students (in universities, Polytechnics and colleges) whose mission is to ensure that the academic growth and development of students goes hand in hand with their spiritual development, in the light of the real life situation they encounter and in the process, develop leaders along Christian Principles. IMCS is guided by the Motto: Preferential Option for the poor.
     Pax Romana-ICMICA, founded in 1946 by former member of Pax Romana IMCS, is a worldwide network of Catholic intellectuals and professionals. Pax Romana- ICMICA is one of the lay movements recognised by the Holy See. The international office is based in Geneva, Switzerland with regional offices in Africa, Latin America, North America and Asia.
     Since 1949, Pax Romana (both IMCS and ICMICA) have held a consultative status with the United Nations through the Economic Social Council (ECOSOC) and United Nations Educational, Scientific and Cultural Organization (UNESCO). They have permanent representation at the United Nations offices in New York, Geneva, Vienna and Nairobi. They are members of the conference of Non-Governmental Organisations (CONGO) and is the President of the NGO Committee on Human Rights in Geneva and the co-chair of the NGO Working Group on Human Rights Education and Learning in Geneva.
Guiding questions
How relevant is 'Laudato Si' to Sub Sahara Africa and in particular your country?
Are there specific thematic issues that have not been addressed in 'Laudato Si' but are important to Sub Sahara Africa, and in particular your country?
What practical actions (at the local, national, regional and international levels) need to be taken by Pax Romana and other stakeholders in implementing the messages in Laudato Si?