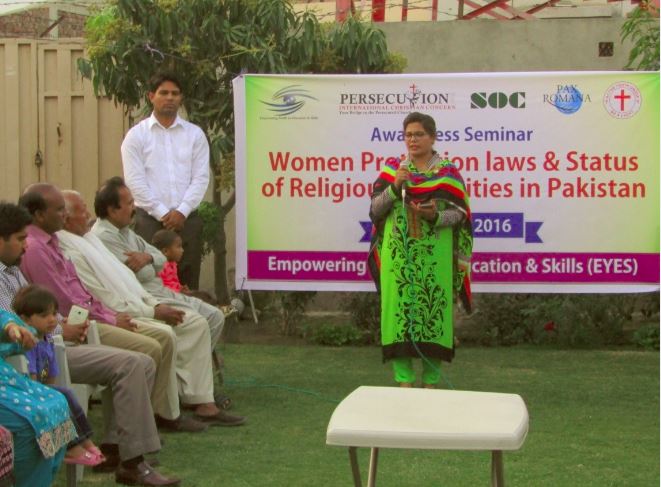 Empowering Youth in Education and Skills (EYES) conducted the one day awareness seminar for women on the topic of "Women Protection Law & Status of Religious Minorities in Pakistan" with the religious minorities of Pakistan in Sahiwal on 23rd of March 2016 with collaboration of ICMICA, Active Youth Group, International Christian Concern and Servants of Christ (SOC).  EYES is working for religious freedom through advocacy and human rights
     There were 40 Women and 10 Men from Muslim, Sikh, Baha'i and Christian faith. Seminar was led by Mr. Tariq Abi Nazr who is founder and president of SOC Int'l.  Tariq said that rights of religious minorities often violated and the justice system also fails to protect them. In fact the presence of discriminatory laws in the constitution legitimize the victimization of religious minorities.
     Sardar Needan Singh added that we should have to focus on education because this is the way which can help us to progress. There is prevalence of social discrimination and religious intolerance towards minorities in Pakistan.
      Tamreen Shally, executive member of AYG, has reservation on implementation of Minority quota. Minorities have to face discrimination while taking admission in schools.
      Mr. Ashik Naz Khokhar said that minority community comprise the labor class in various sectors including agriculture, brick kiln, sanitation and menial jobs.
      Minority women face sexual harassment, wage discrimination and other exploitation due to social vulnerability. There is a need for promotion of tolerance and religious freedom in order to ensure justice to minorities.