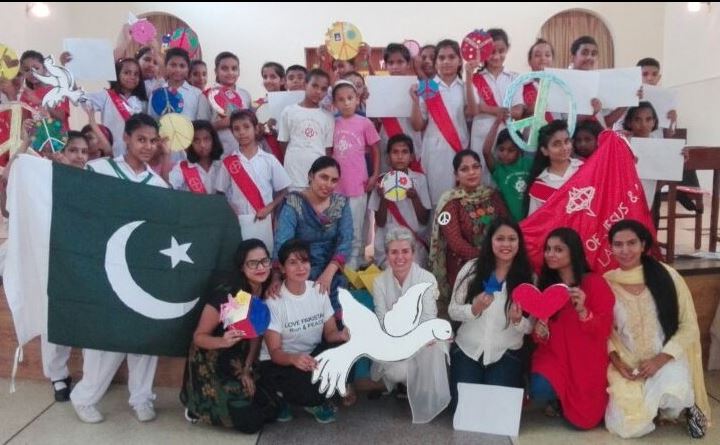 An effort to promote peace in Pakistan starts at Convent of Jesus and Mary –Lahore through the peace cranes which carry the message of peace, love, friendship, hope, light, laughter, kind deeds and a life time bond with human kind.
     On, 21st September 2017, Matric Section commemorated International Day of Peace to create awareness on the importance of peace in this unrest and demanding world. Through this celebration children learnt to connect with themselves and discovered the power of peace. An angelic choir started off with the hymn "Make me an instrument of your peace" a prayer by St. Francis of Assisi – it is a part of daily routine to start our day. A projection of Peace Art Work and peace building activities were the anchor of this day. A candle was lit by Sr. Mari Puy RJM (Spain) Headmistress, Sr. Clara Hussain, Sr. Samina David along with the students, so the warmth instill in them and light always shine through these bright faces.
The students took oath to be peace ambassadors, and a tableau was performed by the students with the message, that I can be a "Shama of Aman" (a light of peace). Later the hall was filled with the positive energy, joy and harmony by a peace dance performed by juniors. A peace crane project was introduced to the school, it is the connection of one classroom to another globally, Matric Section is now a part of global team spreading the message of peace through peace cranes. Children participated in series of International events throughout the year and held top positions at national and international level.
     The winners were announced and certificates of positions and participation were distributed among them. Students participated in Peace Essay Writing Competition 2017, organized by Peace building Department, Diocese of Raiwind Church of Pakistan, International Essay Contest for young people 2017 on the theme "Learning from Nature" organized by The Goi Peace Foundation (Japan), exchanged peace letters with India through Father Joesph,Kalathil (SJ) and participated in an Art Exhibition on the theme "Nature for all-loving the Earth" organized by Peace Pals International (USA).The event was hosted by Ms. Christina Patras, along with the other staff members, Mrs. Monica Sajeel, Ms. Romna Liaqat, Ms. Nadia Sabir and Ms. Maryann Patras to . Special thanks to Sr. Farzana Philip –RJM for being the inspiration and giving the freedom to work for peace. May peace prevail in Pakistan and on Earth.