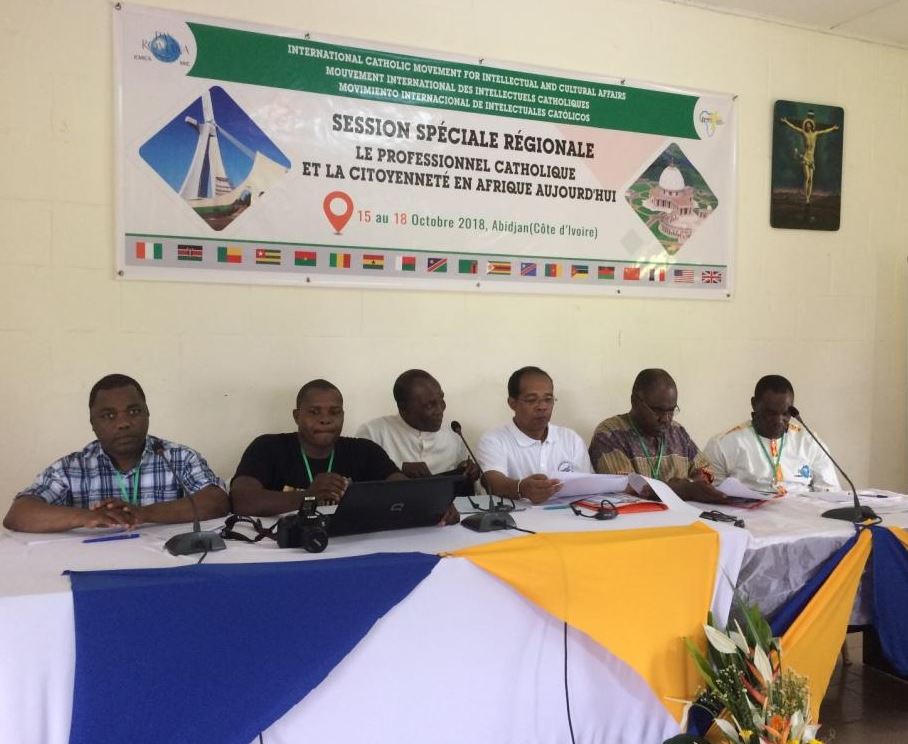 AMECEA(*) Pastoral Department is committed toward supporting Pax Romana-International Catholic Movement for Intellectual and Cultural Affairs (ICMICA) as it reorganizes its structures to conform with the structures of the Church at all levels – region, Conference and the diocese, says Rev. Fr. Emmanuel Chimombo, the Coordinator of AMECEA Pastoral Department.
According to Fr. Chimombo who attended the ICMICA meeting convened in Ivory Coast from 15th to 18th October, 2018 under the theme Catholic Professionals and the Call to Good Citizenship in Africa Today; one of the fundamental resolutions by the meeting which was attended by representatives that came from 17 African countries was to revive their spiritual foundation.
 "Catholic professionals must be guided by a spiritual foundation and commitment to Christ, which will compel them to discharge their services not like any member of the society, but as Christians. Therefore, the question is, 'How do members of ICMICA Christianize their professions in society so as to make a difference?'," explained Fr. Chimombo, adding that the participants resolved to go back to spiritual foundation to redefine their purpose so that the professional roles they play are informed by Christian values.
Fr. Chimombo further indicated that the Movement was cognisant of the great socio-economic and political strides African continent has made. However, in spite of the progress, the continent is still held back by many serious challenges including corruption, poor governance, weak institutions and unemployment, which negatively affect the continent's progress.
"The Movement also acknowledged that as Catholic professionals, there are some limitations related to formation, mobilisation, networking, communication, collaboration with the Church hierarchy, availability, finances and accountability, which hinder their full potential to respond to the needs of the Church and the society," Chimombo recalled, adding that it is against this backdrop that the ICMICA members have resolved to make a commitment to reorganize their structures and ensure that there is conformity with the Church Structures at all levels and avoid operating in isolation.
 "In AMECEA Region for instance, we advocate for Small Christian Communities. We would want to see the Movement establishing connections with the Church within the AMECEA Region right from the Small Christian Communities so that the Movement finds relevance to what the Dioceses and the National Conferences are implementing. This would eradicated any possible dichotomy with Church structures."
 According to Fr. Chimombo, the Movement also resolved to establish modalities for self-sustainability in order to have human and financial independence and fulfil their mandate. Participants also resolved to prioritize strategic membership mobilization and retention, as well as enhancing the spirit of collaboration with Church institutions.
(*) AMECEA gathers Episcopal Conferences in Eastern Africa, namely Eritrea, Ethiopia, Kenya, Malawi, South Sudan, Sudan, Tanzania, Uganda and Zambia.