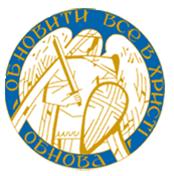 OБHOBA OBNOVA
Federation of Ukrainian Catholic academic and student associations
Presentation of the movement
           "Obnova" was established in 2001 in Ternopil. It comes from the "Obnova" established in 1930 in Lviv, and the "Obnova" Federations, which existed in the diaspora during the Soviet times. During 1939-1989 the activity of the Catholic Church and its laity structures was forbidden, except for small communities.
           "Obnova" has kept its relations with PAX ROMANA since 1931. Federations of "Obnova" associations participated actively in the activities of PAX ROMANA in the diaspora till mid 1970s.
      The membership of FUCASA "Obnova" (Federation of Ukrainian Catholic Academic and Student Associations) was confirmed in July, 2004 at the XXIXth Congress in Poland.
Activities
The main activity of the Federation is an annual conference (for 3 days), which is held in turn by each member association. The conference is organized with the participation of local Christian intellectuals, Church representatives, students. Summary material is published, main ideas are offered to the organizations that are interested.
The federation also organizes common retreats, training and recreation camps, and pilgrimages.
The launching of local academic associations, new branches in other cities, structure and methods of the Federation's activity is going on.
 Federations: Lviv, Ternopil, Chernivtsi, Ivano-Frankivs'k, Kyiv.
Recent events:
Celebration of Obnova's 80th Anniversary
Leadership as a social ministering
Christian values facing the challenges of information age
Seminars
Living together before marriage: problems and consequences
Themes of the review
Articles on social themes
Researches about the spirituality of the Ukrainian Greek-Catholic Church, and other Christian Churches in the context of ecumenical processes