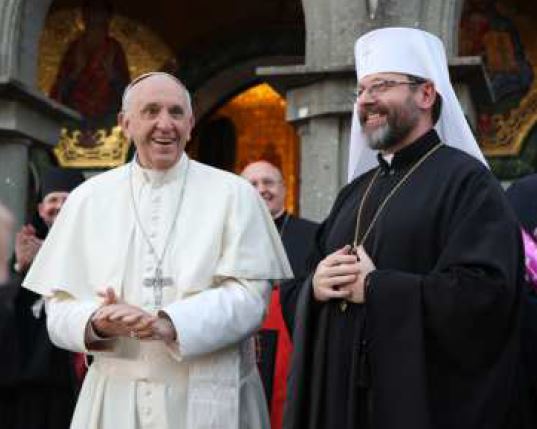 Whilst those reading the article have probably always lived in a very democratic environment which promotes and facilitates growth and development of NGOs and democratic values, it somehow turned out that "Obnova" during its long history has always needed to push its way out of the bubble of comfort. Being one of the oldest Christian organisations in Ukraine, it was founded in 1930 in Lviv as the initiative of the Metropolitan Andrey Sheptytsky and rector of the Lviv Theological Academy Rev. Josyf Slipy. Obnova's first spiritual leader was Rev. Mykola Konrad. (now blessed)
Closely related to the activity of the Catholic Action, Obnova became the first Ukrainian Catholic student association of a Western type. Obnova's main objective was to deepen Christian worldview on the principle of the Catholic Action "To renew all things in Christ." Obnova's activity aimed primarily at the Ukrainian students.
When the World War II in 1939 began, Obnova ceased to operate in Lviv. In 1946, however, Ukrainian emigrants restored the organization's activities in Munich (Germany). The AUCS "Obnova" subsequently spread to other university cities (e.g. Innsbruck (Austria), Leuven (Belgium), Madrid (Spain)) and to other continents (North America (USA, Canada) and Australia). Senior members of Obnova created The Sheptytsky Academic Association.
During Soviet regime Obnova could not lead any activity in Ukraine. However, it was renewed in independent Ukraine on 2 April 1992 in Lviv with the help of initiative group of seniors. Soon Obnova Associations were founded in other cities: Ternopil (1997), Chernivtsi (1998), Ivano-Frankivsk (2004) and Kyiv (2006) Chortkiv (2009) and Lublin, Poland (2016). On February 24, 2001 The Federation was established as a governing organisation. The Ukrainian Catholic Academic Obnova was founded in 1931. For the time being it provides mentorship and financial support to the AUCS "Obnova."
In 2014 the Revolution of Dignity started in Ukraine and many young people were killed by the president Yanukovych's edict.  After a while Russia annexed Crimean peninsula and started the war in the East of Ukraine claiming that this is only a civil war. That meant that new challenges for people and NGOs appeared as Ukraine had before been a very peaceful country and there was practically no army. That's why many young people volunteered to go to fight and defend the independence of Ukraine. Those who stayed started actively helping the army, which has become a major phenomenon. People bought everything from socks to weapon and took it to the war zone by their own vehicles. Obnova decided not to stay beyond this problem and organized charity actions to raise money for purchase of things soldiers needed. However, the organization is not that strong and influential to solve many other problems connected with human rights violations or somehow help thousands of internally displaced persons who were forced to leave their homes in the East of Ukraine because of war. It is also of great importance for us that The Holy Father, Pope Francis, really cares for Ukraine, especially regarding Ukraine as a victim of unjust aggression. In fact, he prayed for Ukraine in a fatherly, Christian way during the Christmas services in Rome. In particular, he mentioned us in his Urbi et orbi Christmas greeting, where he always spoke of "beloved Ukraine," "long-suffering Ukraine" waiting for peace, which is delayed.
On the other hand, some of the democratic reforms are being introduced and we are slowly moving to better days we hope. Ukraine received the visa-free regime, which means Ukrainian citizens can easily travel to and around Europe, participate in international conferences without those additional bureaucratic difficulties we overcame before.
About a month ago one more important historical event for Ukraine took place: the creation of the autocephalous Orthodox Church of Ukraine (OCU) and Constantinople's abolition of the jurisdiction of the Russian Orthodox Church over the Ukrainian episcopate. This means that now the Ukrainian Greco-Catholic Church (UGCC) has become the second largest and most influential Christian denomination in Ukraine. According to various estimates, the UGCC comprises about 6 million faithful.
The Ukrainian Greco-Catholic Church is in communion with Rome, but retains the Byzantine liturgical tradition. This creates a unique opportunity for it to conduct ecumenical dialogue between Catholics and Orthodox who actively seek ways to overcome the schism that arose in 1054 and was partially overcome in 1965 after the lifting of mutual anathemas. The ultimate goal of this dialogue is the complete Eucharistic unity in the one Church of Christ. That is, the opposite of what the Russian Orthodox Church (ROC) did, when on October 15, 2018, it broke Eucharistic communion with the Mother Church—the Ecumenical Patriarchate.
The Head and Father of the UGCC, His Beatitude Sviatoslav (Shevchuk), Major Archbishop of Kyiv-Halych and Metropolitan of Kyiv, and the head of the OCU, His Beatitude Epiphanius (Dumenko), Metropolitan of Kyiv and All Ukraine, are united by the fact that they were both elected to lead their respective churches at a fairly young age. Both stand by the position of the state, sharply condemn Russian aggression, and are open to broad Orthodox-Catholic dialogue. This unity of attitudes and views creates optimistic prospects for the unification of Ukrainian Christians. His Beatitude Sviatoslav even believes that in the future a patriarchate of the united Kyivan Church may appear in Ukraine.    
Today Obnova is a very flexible organization and is adapting to the needs of modern youth. However, there are things that remain unchangeable – our intellectual and spiritual development.  That is why we have piloted a project "Read the Bible in a year" and a debate club aimed at deepening the knowledge of Holy Scriptures and its practical implementation.
Another important project is cooperation with the boarding school in Nahuyevychi. Unlike previously, when we brought presents to children for St Nicholas Day, this time Obnova organized monthly workshops and entertainment programs throughout a year.