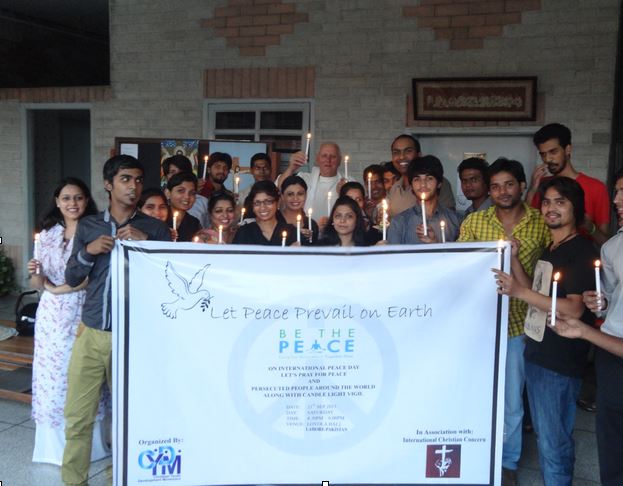 Christian Youth Development Movement in association with the International Christian Concern (ICC) celebrated a Holy Mass on 21 September 2013 at Loyola Hall in Lahore, Pakistan for Peace and Persecuted People around the World on the day declared as "International Day of Peace" by the United Nations General Assembly in 1981.
The International Peace Day was designated by the United Nations General Assembly when it, "by unanimous vote, adopted Resolution 36/67 establishing the International Day of Peace (IDP)" which stated in part, "…to devote a specific time to concentrate the efforts of the United Nations and its Member States, as well as the whole of mankind, to promoting the ideals of peace and to giving positive evidence of their commitment to peace in all viable ways." The first International Peace Day was celebrated in September 1982 on the opening day of the General Assembly.
 Around 30-40 young people participated in the Holy Mass in Lahore, which was lead by Jesuit Priest Fr. Renato Zecchin S.J (Responsible Superior of Jesuit Formation house at Loyola Hall).
 During the Mass Fr. Renato shared the importance of peace in our daily lives and how much it is necessary to be a peace maker in the current circumstances, as we are living in a brutal, violent, and cruel world. He shared from scripture: "Blessed are those who are persecuted because of righteousness, for theirs is the kingdom of heaven" (Matthew 5:10); and "For the sake of Christ, then, I am content with weaknesses, insults, hardships, persecutions, and calamities. For when I am weak, then I am strong" (2 Corinthians 12:10).
 Fr. Renato further said that we Christians should show by our actions that we are the Children of Jesus as he was complete in his Personality and a perfect son of God, and we should also follow His footsteps and make peace with each other on this Earth, we should love, share, give, respect, be kind, generous and forgive others and maintain peace.
 He also named Martin Luther King Jr. and Mahatma Gandhi and recalled their efforts at bringing peace, equality and justice to unjust societies.  He prayed for persecuted people along with youth and asked for courage for affected people and forgiveness to those who do such acts of humiliation, violence, torture and who murder Christians for being firm in their faith.
 According to Matthew 5:38-48: "38 "You have heard that it was said, 'An eye for an eye and a tooth for a tooth.' 39 But I say to you, do not resist the one who is evil. But if anyone slaps you on the right cheek, turn to him the other also. 40 And if anyone would sue you and take your tunic,[a] let him have your cloak as well. 41 And if anyone forces you to go one mile, go with him two miles. 42 Give to the one who begs from you, and do not refuse the one who would borrow from you.
Love Your Enemies
43 "You have heard that it was said, 'You shall love your neighbor and hate your enemy.' 44 But I say to you, Love your enemies and pray for those who persecute you, 45 so that you may be sons of your Father who is in heaven. For he makes his sun rise on the evil and on the good, and sends rain on the just and on the unjust. 46 For if you love those who love you, what reward do you have? Do not even the tax collectors do the same? 47 And if you greet only your brothers,[b] what more are you doing than others? Do not even the Gentiles do the same? 48 You therefore must be perfect, as your heavenly Father is perfect."
Fr. Renato asked all the participants to act according to the Word of the Lord so His name glorifies on this Earth and in Heaven. 
After the Holy Mass, Mr. Shamiel Saleem (Founder/President-CYDM & ICC Volunteer) did a candlelight ceremony along with Fr. Renato, CYDM Group Members and other participants, in the hope that peace may prevail on Earth, within ourselves and among each other. Silence for one minute was maintained in honor of the persecuted people who are suffering in the name of Jesus Christ our Lord.
 Mr. Saleem quoted from Holy Scripture: "Blessed are those who are persecuted because of righteousness, for theirs is the kingdom of heaven" (Matthew 5:10) and lit the candle from which a chain of candles was started with a thought that it brings hope and light in the world of Joy and happiness.
Youth displayed different messages related to Peace and Persecution with candles in their hands. CYDM Group Member, Ms. Christina Patras (Secretary General) , shared her feelings during this activity that, "such peaceful activities must be conducted at all levels, within homes, peer groups, institutions, organizations, NGOs, religious-based activities in all communities and publically so it can promote peace and spread the message of harmony, respecting differences, forgiveness and sharing".
In the end another activity was lead by CYDM group member Mr. Zikria William that he asked all the participants to write on a sheet that "One word comes to their mind when they think of PEACE". All participants wrote: Justice, No war/fights, sharing, caring, happiness, forgiveness, love, kindness, hope, Aman, Salamati, joy, fun, unity, friendship and no prejudice. All participants also wrote special prayers for persecuted people around the world. May the Lord keep all of us in His protection and use us to Praise Him and do good work. (Amen)
 All participants were happy, at peace with each other in the end of this activity and were contented with the spiritual food they received through Holy Mass; they all pledge to be a channel of peace, hope and love for the future generations and will make an effort to make this world a better place to live. Refreshments were served by CYDM with a note of thanks.