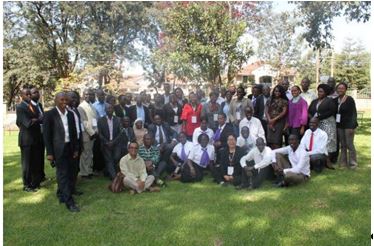 Human Rights sometimes do not seem to be anything of concern to society especially when we focus on acquisition of basic needs like food, water, education, shelter and health. Consecutive regimes have in the history distanced themselves from the quest for provision and assurance of these rights that it has been relegated to the civil society movement. An interrogation of the state's performance on the provision of the basic rights to its citizen has always been viewed as antagonism to the state, while a collaborative approach to this kind of interrogation in most of the times gives the state the opportunity to polish up its mechanisms to service delivery in a participatory approach.
The Kenya Movement of Catholic Professionals (KMCP) with her other 20 partners hence embarked on a mechanism to review Kenya performance, with participants from Uganda, Tanzania, Zimbabwe and Rwanda. We focused on five key areas of concern: rights to Food, to healthcare, to water and sanitation, internal displacements in Kenya, and right to quality and affordable Education
Various stakeholders from the civil society, academia, research institutions and also various arms of government took part in the process leading to this report. We have now to implement the second phase that will entails training civil society organizations mostly faith based to review the Human Rights situation in their respective 47 counties of Kenya.