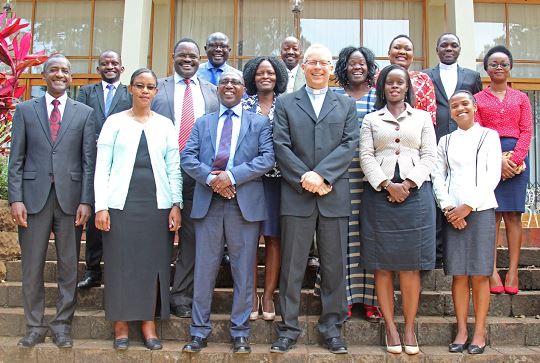 Catholic Professionals in Kenya made a passionate call for a greater involvement of the lay people in the life of the Church and society during their visit to the new Apostolic Nuncio to Kenya, H.E. Archbishop Bert Van Megan. The visit, which took place on 28th August 2019, was organized by the umbrella body of Catholic Professionals in Kenya, the Kenya Movement of Catholic Professionals (KMCP). It comprised representatives from Kenya Catholic Doctors' Association, Catholic Members of Parliament Spiritual Support Initiative (CAMPSSI) and International Young Catholic Students.
During the visit, leaders emphasized on the new for continuous formation of Lay people in the Catholic Social Teachings as a way of deepening their ability to participate in the Church's mission of evangelization. Among others, they have committed to organizing a National Prayer day for Catholic Lay leaders at Subukia National Shrine on every second Saturday of August starting 2020; engagement on national discourses on matters such as education and constitutional reforms, civic education, social audit of devolved governance as well as offer ourselves for leadership in public offices;  environmental protection and promotion  in response to Laudato Si including environmental education and intervention among professionals and grass root communities and enhance the participation of the Catholic professionals as pastoral agents through direct action including scientific and social enquiry, pastoral programme instruction for Catholic pupils and students in schools, participation in the laity council at the episcopal, diocesan and parish levels.
'As CAMPSSI we provide spiritual support for Catholic MPs. We provide a link between the Church and parliament on matters that require legislation" said Hon. Innocent Momanyi, a Member of Parliament for Bobasi and a member of CAMPSSI.
"The Church needs to train and appoint more passionate priests to chaplains to accompany the youth in their formation in the Church. The Church should listen more and respond to the needs of the youth while involving them in making decisions on matters that affect them" Maria the outgoing coordinator of International Young Catholic Students observed.
In his remarks, Dr. Wahome Ngare of Catholic Doctors' Association observed that synergy among all Catholic professionals is imperative. Emerging issues like the human papillomavirus vaccine being administered on girls as young as 10 years is something that should elicit concerted effort among all Catholics.
In his address, Apostolic Nuncio who has been in Kenya since May 2019 observed that he is impressed with the Church and the faith of the people of Kenya. Referring to the parable of the yeast the nuncio equated professionals to yeast who despite being few are able to permeate every part of the society. He called on Lay Leaders to take every small matter they are engaged in seriously observing that everything we do is an invitation to serve Christ. He encouraged the leaders to work together with the Church as this is their special mission.  Also present was Rev. Emmanuel Mulu, the Advisor to the Nuncio and National Chaplain of the Kenya Movement of Catholic Professionals.