Literacy and active citizenship for North African women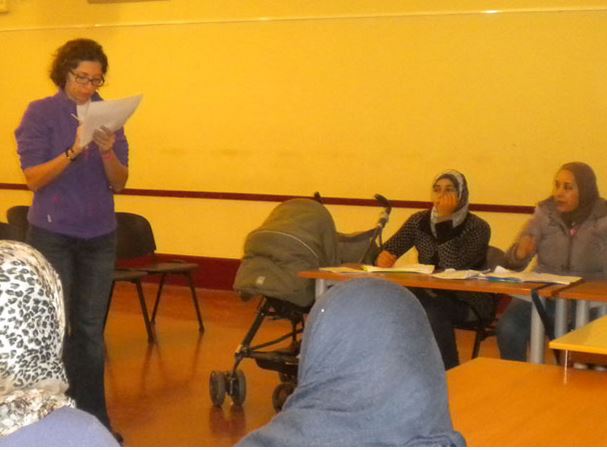 The project "Torino my city", born from an idea of ​​the Meic of Torino in more than 15 years ago and managed since 2015 by "Mondi in città" (Non profit organization), has involved so far more than 3000 students accompanied by over 900 children. More than 1,200 students were able to obtain a secondary school diploma. The courses are organized by "Mondi in città", thanks to the contribution of Compagnia di San Paolo, Fondazione CRT, Associazione Come Noi (non-profit org.) and gifts from supporters. The initiatives are carried out in collaboration with the Civic Libraries of Torino and with the patronage of 4 city circumscriptions. The MEIC, thanks to the 8×1000 of the Catholic Church, guarantees the cultural and educational paths to the active citizenship.
Scope of intervention. The project aims to carry out language training and education activities to active citizenship for immigrant women, mainly of African origin. The courses are held in four offices, located in districts of high immigrant intensity: Barriera di Milano, Aurora, San Donato and Lingotto. Women of Arab-Islamic culture are a segment of the population particularly weak: for family and cultural reasons they can hardly access other language courses, they remain isolated for a long time and struggle to integrate.
Activities. Literacy courses are structured on several levels, depending on the degree of schooling. Lessons take place in the morning, two days a week. The third day is dedicated to the citizenship path: in this context meetings are organized with experts in legislation, tax system, school organization, health and social workers. Other extracurricular activities include guided tours of the city and its museums and workshops for consolidation and exchanges between the different locations. Recently, collaborations have been made important with the Egyptian Museum and the Royal Museums of Torino.
Collaborations. The project takes place in collaboration with the Torinesi Civic Libraries, the Circumscriptions, the Cartiera Youth Center, the Association Our Planet, the ASAI. Thanks to agreements stipulated with the Provincial Centers for Adult Education (CPIA), the students are given the hours of lesson held at our offices as a formative credit, to obtain at the end of the year the A2 certification or admission to the middle license exam.
www.mondincitta.it www.meic.net/gruppi-locali/torino.php  https://www.facebook.com/mondincitta/ www.facebook.com/MeicTorino