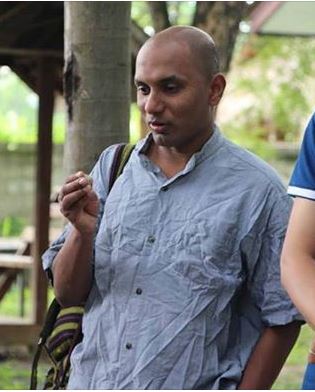 Iranaitheevu: a community reclaims their island home from the Navy
     On the morning of April 23, 2018, about 300 people from the Iranaitheevu twin islands decided to sail there in about 40 boats. They have been displaced since 1992, and the Navy has occupied the island, barring the local people from staying or even visiting their traditional land, on which had hinged their livelihood. The islands also had important institutions like a school, churches, cooperative, weaving centre, hospital and village council. These people hoped that they could return to their island after the end of the war in 2009, and the election of a new government in 2015. Yet, they were still not allowed to return, despite a series of meetings and correspondence with Ministers, politicians and government officials from 2016 to 2017. In desperation, they resorted to a continuous protest for almost a year (359 days as of April 23). Even that didn't bring them home. On the morning of April 23, they planned something different. Something daring that most Sri Lankans wouldn't try. I was scared of this too.
In the preceding days and weeks, I received many calls to join them on April 23 and bring supporters as well. They especially wanted journalists, lawyers and priests to join them on April 23. I asked many friends and colleagues, it was not easy to convince people to join, but a few did. I joined their protests several times, but had almost given up, frustrated by the lack of government response and my own inability to do anything meaningful to support the people's struggle. But the phone calls and a chance meeting with a youth from Iranaitheevu the previous week re-energised me.
So I went to join them on April 23. After a religious service at the Iranaimathaanagar church, next to their 359 day protest site, they held banners and placards and marched to the beach. Then they got into boats and started to sail towards Iranaitheevu. They wanted me and others who had come to support them from Jaffna, Mannar, Colombo etc. including the journalists and priests to join them. Most of us got into the boats.
I was apprehensive. Not of rough seas but of the Navy. I knew the Navy had only allowed people to land and stay in the island for prayers in the church, and that too after prior permission was obtained. With me on the boat was a long time friend and Catholic Priest from Pesalei, and we recalled the fire power of the Navy, and how they had even attacked and killed and injured people inside the Pesalei church. People raised white flags on their boats, but both of us remembered how people who surrendered with white flags were reported as killed.
But yesterday, there was no obstruction from the Navy. People landed and proceeded to the church where they prayed. A few Navy officials came and had a brief discussion. The People were firm and polite. "We have come to our lands, our church. We have had enough of displacement, and we plan to stay here. We have legal documents. You (Navy) can also stay in the islands, but not on our lands, and should not disturb or obstruct our lives." 
The offers of the Navy to rebuild the church was dismissed by the people and priests, saying their priority was to resettle in their land, and renew their livelihoods and their traditional way of life. The Navy officers retreated, saying they would convey the news to higher officers. A community discussion reaffirmed their resolve to stay overnight. Within an hour or so, some people had started to change clothes to stay on. Others braved the scorching sun and walked a distance into the interior of the island to see their land, or what was left.
The richness of the island soon became clear to first time visitors like me. We saw people enjoy coconuts, one lady caught mussels and another man a sea cucumber. There was also a new fruit, I tasted which I had never had before.  A retired principal of the school took us to his old office, showed us the school building, the teacher's residences and also a unique underground rainwater collection system for drinking water. The main church was still standing, though damaged, but a smaller church was in ruins. The priest's residence and the convent of Holy Family Sisters was damaged but still standing. A weaving centre, local cooperative and the village council buildings had all been totally destroyed. A community well was standing and had water, but will need a cleanup. 
From what we could see, the Navy had only occupied a small part of the island. Yet according to an elder, that area included five houses, the hospital including the doctors and nurses residences, a playground and the cemetery. There were no roads and no motor vehicles on the islands – only bullock carts and cycles. We saw plenty of cows, but people complained that they had left behind many more, which the Navy may have slaughtered. Most of us who had joined in solidarity left the island in the afternoon. But 105 islanders stayed the night. Even as we were leaving, they were cleaning up and getting ready to stay on.
Landing in the island and staying on, to reclaim their occupied lands, without waiting for permission or approval seemed a non-violent act of community defiance and resistence rarely seen in Sri Lanka in the recent past. To me it was an act of exceptional courage and determination. But for one community leader, it was much simpler – "Why do we need approval to go to our land, our church?" They have only been on the island for just over 24 hours. Despite the richness of the land and the sea, and despite the resilience and creativity of the people, challenges remain and they will need support.
There is no formal recognition by the government of their resettlement on their own lands, and no assistance has been offered in terms of essential and immediate needs like water and food. Houses and community structures like the school, hospital, village council, cooperative etc. will have to be reconstructed. There will have to be regular transport between mainland and the island. But for now, the joy of having reclaimed their own land, in their own way, by themselves, will prevail.