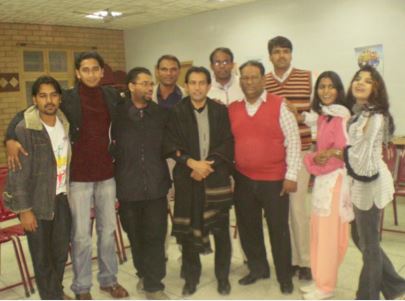 A group photo of IMCS 2009
It's a privilege to share my feelings with the global Pax Romana family. Since 2009, Pax Romana has played a huge role in my development in so many ways. Both IMCS and  ICMICA have contributed to the polishing and sharpening of my skills at all levels especially in the field of human rights and social justice. From jointly seeking complex answers to complex questions to writing skype meeting minutes, I have indeed come a long way with the Pax Romana family. The ICMICA family has always guided and journeyed with me consistently. Even though we were not able to meet physically often as a big family, skype meetings were organized to bring us together and share about various local and global issues, and this being faithful to the mission and vision of ICMICA.
ICMICA also journeyed with me during the very difficult times in my life especially when I was terminated unjustly from my position as a Project Coordinator at Catholic Women Organization in 2014.
It was then that I realized and experienced firsthand injustice which is rampantly caused by those who preach against it especially faith based organizations.  At that moment when life seemed to have no hope and meaning, it was the global ICMICA family whom raised me up and supported me unconditionally. They strongly inspired me to be a strong Pakistani women leader with capabilities to cope in a harsh patriarchal environment like Pakistan. By the grace of blessings of a forgiving God I then got an opportunity to work at Caritas Pakistan Lahore.
Inspired by the Pax Romana methodology of See- Judge-Act, my social justice work in Caritas became my passion. I started my work as a volunteer under the kind supervision of Rev Fr. Joseph Louis whom also believed in my capabilities and potential. He polished my skills and guided me like a guiding star throughout the entire process of growing in Caritas. Through this position, I had opportunities for field visits, surveys of flood affected areas of Punjab. I also conducted puppet shows for raising funds and food for all campaigns. My perseverance then paid of as I was later appointed as manager for their Livelihood, Food & Security Program. With this appointment, I give full credit to the ICMICA family who has constantly inspired and challenged me.
As ICMICA and its leaders had faith in my potential, so too should we continue to ensure that the future generations of youth receive the same guidance and formation in order for them to cope with the current challenges of Pakistan. I would also like to express my gratitude to my guardian angel Mr. Adrian Pereira who not only journeyed with me but inspired me to be "the strongest women South Asia" especially in such harsh patriarchal and violent conditions. I dedicate my current success to Adrian and all the ICMICA council members who worked hard for the movement. Last but not least I would like to thanks Mr. Shahid Ghouri the Director of Youth Development Foundation who introduced me to ICMICA and the methodologies of the movement. Last but not least, I hope my life will be a living example of how team work as a global ICMICA movement can have a deep impact in the lives of our members and also the marginalized around us.  May we all continue to join hands and further build a strong Pax Romana movement for our future generation.