UN Office Geneva from 01st -05th June 2015
Participants of Sharing Session
Staff Members & Students from Forman Christian College Lahore, Kinnaird College Lahore, St. Anthony High School Lahore and Interfaith Commission for Community Development Lahore, Pakistan
Dated 08th June 2015, about one hour sharing session was organized at Lahore Pakistan. The video-link sharing session was about my recent experience during International Labor Conference 2015, UN Session Geneva Switzerland as an observer and to do lobby work. A mixed gender group of young students and professionals named Ms Anika Samuel, Ms. Hina Yousaf, Ms. Beenish Daood (Sociology Department), Mr. Nadeem Tabassum (Bio Informatics Department), Mr. Raheel Romail (Computer Science Department), Ms. Sarah Julian (Food Safety Department), Mr. Nobel Waris (Bio Technology Department), Mr. Qindeel Rabbani (Computer Science Department), Mr. Kamil Dass (College Student), Mr. Faran Najam CIMA (Accounting) Mr. Faris Najam HND (Business Department) and Mr. Danish (Former Member of IMCS Lahore, Pakistan).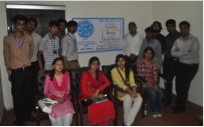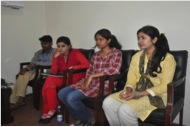 The main purpose of this session was to motivate young student to work on social and justice issues in society at grass-root. Mr. Danish Georg and Mr. Irfan Arif organized this event with pre-planned schedule. A group of 15 people including young students and professional participated actively in this sharing session.
The first part of this session consists on introduction. Then I shared about my social career as a IMCS member and latter as a ICMICA member. I shared about the input of Pax Romana family, which lead me to participate at this kind of international platforms. For this I am very thankful to Pax Romana Family. Then I shared my exposure, lobby & advocacy work during UN session. Students became very motivated because they showed their keen interest to learn more and more about field of social justice.
The second and last part of session consists of questions and answers. Students showed their concern to ask several questions about how to get involve in justice and social issue as newcomer. I shared some possibilities, which could lead them to play their vital role as individual member of society. I advised them to make their life social besides of getting their education. Somehow they were interested to get more and more information and I tried my level best to transfer maximum information.
One girl student asked question, "how you got motivation to get involve in the field of social justice". I explained her very briefly about my personal motivation that is totally inputs from Pax Roman senior members Mr. Karamat Jameel (President Youth Development Foundation YDF) and Former Coordinator of IMCS Asia Pacific Mr. Adrian Pereira. Pax Romana team always supports us to make our self-capable to meet to challenges of social justice. The most interesting part of this session was when female students showed their keen interest to get involve in female social issues. I explained them how they can play their role as individual member of society to raise female social issue.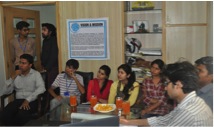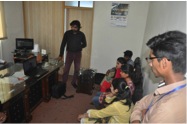 In the end of session students paid their gratitude toward Pax Romana and me for such a wonderful sharing to get motivation, lobby and advocacy work during UN session in Geneva. The group asked me to have this type of sessions in future so that they may consult and could share some ideas to get involve in social justice issues.
Prepared and Submitted By:                       Irfan Arif  (Member Pax Romana)