Human Rights Day 2015
Our Rights Our Freedoms Always
Active Youth Group, Woori Theological Institute and Pax Romana Pakistan jointly celebrated the International Human Rights Day in Pakistan on December 10, 2015 in Jinnah Public Library Hall, Sahiwal in which 50 students of different universities and colleges participated. The purpose of this event was to celebrate the human rights day and also create awareness among the youth of Pakistan about UDHR and its importance in our lives.
Different organizations representatives also took part in sharing session and where we evaluate the current scenario of human rights in Pakistan.
Mr. Ashik Naz Khokhar led this program where we describe the 30 articles of UDHR and present the documentary of history of human rights.
Professor Jaleel Butt and Rana Shafiq also added their views on this special day.
Human Rights Day is marked annually on 10 December to commemorate the day in 1948 when the United Nations adopted the Universal Declaration of Human Rights. A milestone document in the history of human rights, it sets out, for the first time, fundamental human rights to be universally protected.
What is the theme for 2015?
The theme for Human Rights Day 2015 is "Our Rights. Our Freedoms. Always" – to mark the launch of a one-year campaign commemorating two international treaties adopted 50 years ago: Two Human Rights Covenants are the International Covenant on Economic, Social and Cultural Rights, and the International Covenant on Civil and Political Rights, both adopted in 1966.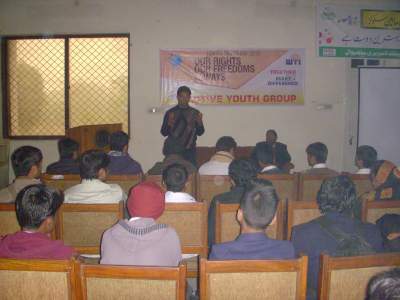 In 2015, the focus is on "freedoms" – recalling the four freedoms that underpin the Universal Declaration of Human Rights and two major human rights covenants, and first articulated in 1941 by President Franklin D Roosevelt in his "four freedoms speech" to the US Congress. The four freedoms are: freedom from fear, freedom of speech, freedom of worship and freedom from want.
Why do we observe Human Rights Day?
Fifty years ago, the United Nations General Assembly adopted two international treaties that would forever shape international human rights – but challenges still remain, and the documents are as relevant today as they were when they were created.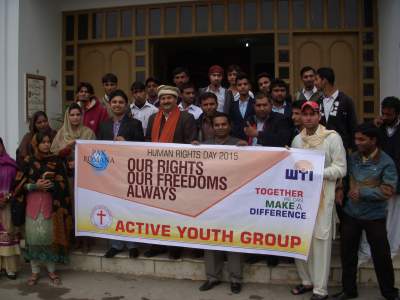 Many countries recognise human rights and the rule of law as the basis for fair and stable societies, but many states still have a lot to do to build political institutions, judicial systems and economics that allow ordinary people to live with dignity. Globally, many people are still unaware of the existence of the International Bill of Human Rights.
Among other problems, there is a growth of hate speech against religious and racial minorities, an ongoing justification of rights violations in the name of combatting terrorism and there is also the reversal of economic and social rights in the name of economic crises or security.
Reported by:
Ashik Naz Khokhar
Pax Romana Pakistan