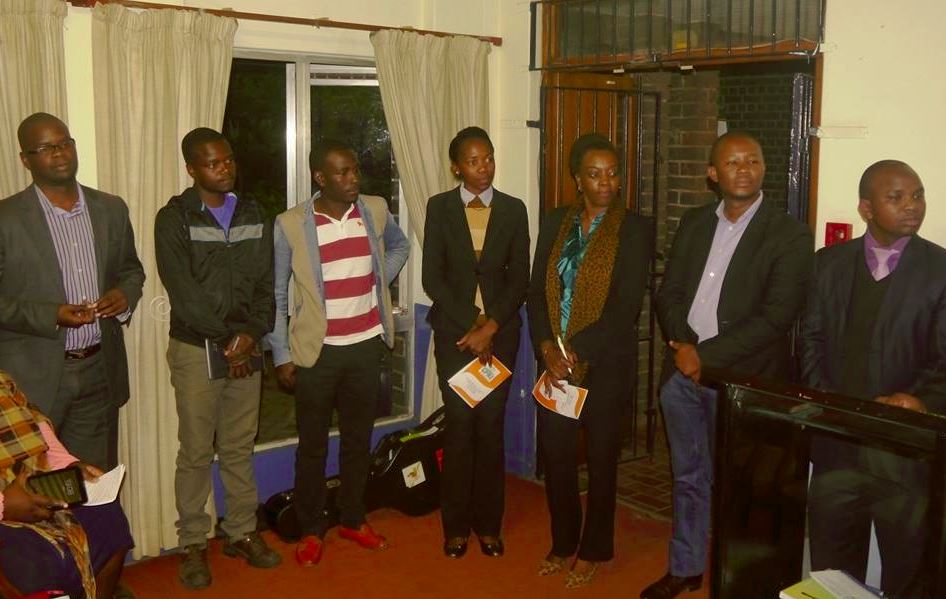 Description of the organisation
    The CPNZ was launched in October 2011 with the blessings of the Zimbabwe Catholic Bishops Conference. The organisation was commissioned to harness the professional and intellectual talents of Catholics in service to the Church in Zimbabwe. Amongst their obligations and objectives, members of the CPNZ are charged with carrying out critical analysis and discernment of dominant thoughts, ideologies and cultures from a Catholic perspective, and to be committed to  building  a culture of Justice and Peace, and the protection of vulnerable groups, as well as safeguarding of Human and People's rights.
     The organisation is led by a national executive that is elected bi annually at congress. It is governed by a constitution and operates within the context of an adopted strategic plan (2013 -2018). As part of its strategic objectives, the organisation is decentralising and forming chapters in Zimbabwe's 8 Catholic diocese. Chapters have already been formed in Gweru and Mutare. The immediate plan is to launch Harare, Bulawayo and Hwange
Activity Summary
The Harare launch was held in a discussion format before professionals who were in attendance were asked to volunteer into an interim coordination committee. The discussion was on the subject of Pope Francis pastoral exhortation of marriage and family life, running under the title:  Amoris Laetitia: Reflecting on the Dignity and Integrity of the family vocation as Catholic Professionals.
Guest speaker was Prof Ranga Zinyemba who broke down the text of Amoris Laetitia before an inquisitive audience of 52 people.
CPNZ Chaplain, Fr Nigel Johnson SJ stood in the discussant and encouraged the church, in the words of Pope Francis "to meet people where there are."
Judith Dembetembe Chiyangwa, CPNZ Chairperson then launched the Harare chapter by appealing to professionals to deploy their professional skills in service to the Church. She handed over to Fr Nigel Johnson SJ, who stood in for Catholic professionals in Harare, the CPNZ constitution and strategic document which runs from 2013 to 2018.
8 people volunteered into the interim leadership structure of the CPNZ Harare chapter and were charged with organising and growing the chapter until they host an AGM, tentatively after October once the national structure has held their own.
The meeting ended with a networking session, where people shared snacks.
The 52 who attended were from various professional backgrounds. The launch was also attended by CPNZ strategic partners who include the African Forum for catholic Social Teachings (AFCAST), the National Movement of Catholic Students (NMCS), The Young Christian Students (ZYCS) and the Association of Catholic Entrepreneurs and the Association of Catholic Entrepreneurs.
Three members of the CPNZ National Executive, Judith Dembetembe Chiyangwa (Chairperson), Gift Mambipiri (Organising Secretary) and Dominic Musengi (Committee member) participated in the launch.
Outputs and outcomes from activity
a)      Harare chapter was officially launched
b)      Interim coordinating leadership for the chapter was established.
c)    Discussion and appreciation of Pope Francis message on marriage and family life as it affects professionals (Amoris Laetitia)
d)     Motivated and potential CPNZ Harare members
e)      There was Networking space of Harare catholic Professionals
f)      Solidarity and third party endorsement from fellow Catholic organisations (AFCAST, NMCS, ZYCS, JESCOM, SOCCOM, ACE)
 Way Forward
An orientation/ induction session has been planned for the newly installed Harare interim committee (Thursday 19 May 2016) at which they will deploy each other to particular committee portfolio titles and responsibilities. The national leadership is now shifting focus to the launch of Bulawayo and Hwange chapters in July and September 2016.
Gratitude to individuals and partners
We are grateful to:
a)      Archbishop Ndlovu for paving way for the launch and operations of CPNZ in Harare by dispatching a letter to his parishes and institutions announcing birth of CPNZ
b)      Fr Nigel Johnson SJ, who is the chaplain, and the national executive for work done towards the launch.
c)      Tariro NeGitare for music and Tendayi Chakanyuka, director of ceremonies.
d)     AFCAST for the financial support, and donation of books during the launch.
e)      Catholic professionals who attended the launch.
f)     Organising committee that put together the launch (Sydney Chisi, Justice Chibaya, Tinashe Mukadzambo, Gift Mambipiri, Tapera Masarakufa, Time Baluwa, Kudzai Kwangwari, Rufaro Zvomuya, Musekiwa Makwanya, Dominic Musengi)
g)      Senior Citizens Club, Rotary International Harare, and their staff for being good hosts.