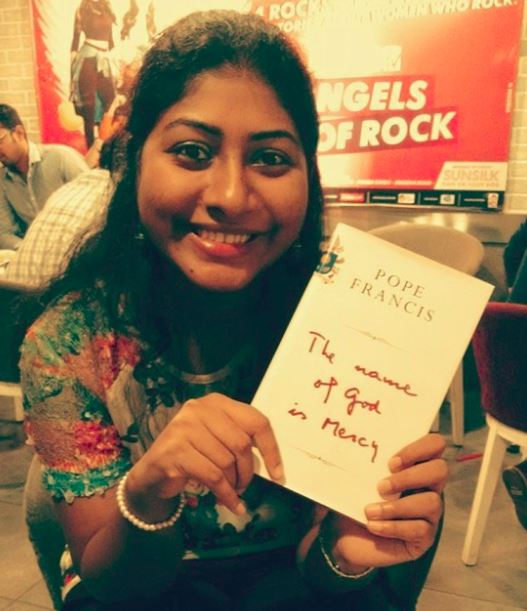 Mercy was just another word for me in the dictionary, i grew up getting familiar with this word especially in the catholic church. I never found the context of mercy empowering, as I found the usage of this word in stories, where one had to fall on their knees and ask the lord for forgiveness, shouting "have mercy on me lord, have mercy" something i often heard at Good Friday services. When the door of mercy was opened by Pope in Rome, i was wondering if walking through this door will save my soul. To acknowledge, i have not yet entered these local holy doors in Mumbai. However, the opening of the doors while led to the altar, i determined to open the door the other side that led to the people of this world. Since i trust the pope of my generation, i took on to live this year of mercy as guided by his holiness. I was fortunate to have been invited by Fr. Leon Cruz sdb, the missionary of mercy from India to join him in this work. And so my journey in understanding this grace of mercy began. One of the opportunity was to update my reflections on Facebook Page, ' 'Face of Mercy'. This kept me alert all the time to see where can i find this face of mercy. And guidance by Fr. Leon helped me grow in faith.
     In this journey i learnt that god's mercy can be experienced in two ways, firstly, when one surrenders one's heart and soul in prayer to the lord and the other when one experiences god's mercy through the acts of their fellow human beings. In this year of mercy, i experienced end number of ups and downs in my life. The constant reminder to be merciful like the father helped me forge ahead. The word 'Mercy' has a whole new significance in my life now. I know what it is to experience god's mercy and i know how one can help others experience god's mercy through one words and actions. I am humbled by reading the book, "The Name of God is Mercy". 'How can we bring this grace of mercy into the Pax Romana movement',  is something i questioned myself. Let me share my insights:
     The fact that Pax Romana movement is alive in all of us itself is a sign of god's mercy. We as members of this historic movement in the church need to pay gratitude to all those who have installed this movement for us and also those who have fostered us to be part of this movement. Lets not take this movement for granted and for our own benefits. We need to see our own comrades with the eyes of mercy, to be compassionate towards them, to really see them as a possibility for the world. To have the ears of mercy, to listen to our comrades and understand what they dealing with and how we as fellow members support them. Most important is the words of mercy, to understand that human beings exist in language and it is only words that make and break a human. If we build solidarity with each other through sincere dialogues and create value for each others life by encouraging them, we will be a movement which the church and the world we look up to. One should not forget that it is people (members) and their sincere works that keeps a movement alive, however, i want to be right on the face and remind everyone that no member is indispensable. The attitude that, 'if i move out, the movement will fall apart' is nothing but a foolish man's dream. While the young have new ideas, the old have wisdom and experience. It is essential that using the tool of dialogue we seek the best step forward and foster genuine friendships within the movement. Using the philosophy of, "Many in Body, One in Mind". The good news is, ICMICA as a movement that focuses to contribute to the society. We all make our contributions in our own ways, in our humanitarian approach. Nothing is good or bad, it is just our sincere care and contribution to the society. We seek moral support and solidarity from this human chain in the movement. And as members words towards building guidelines and systems that will sustain the movement's vision. I see ICMICA as a gift where both, the young and old journey together to make a difference to the world. Where i determine to enroll others into the movement and extend this human chain for a better world. As we approach towards the Plenary Assembly in Barcelona, lets determine to revive our spirit in the movement and find for ourselves, why do we exist as a movement? why do we belong to this movement?. Rather than asking what the movement can give me, lets determine to give back to the movement. Lets pay gratitude to a movement that has raised us to see-judge-act. We as members of ICMICA must stand to foster capable people in the society towards Christ like leadership, to support members of Pax Romana IMCS and the networks within the church. To keep our indifferences aside, and be one. Though at times we see corruption, things going wrong within the church itself. The challenge remains, how we still sustain the movement in these challenges, forgive others, how we can be merciful and see the larger picture than petting our egos. That is what is to move from indifference to mercy……that is why we exist.